Hampton History and Heritage
Having first opened its doors in 1966, Coachman Menswear is an iconic central feature of Bayside's bustling Hampton Street.
Located in Melbourne's Bayside, Coachman Menswear is a renowned Hampton Street icon that has been providing high-quality menswear, formal hire and outstanding service to discerning customers for over 50 years.
The key to the Coachman's longevity and success is keeping abreast of current fashion trends, and supplying hero brands synonymous with style and quality. Owner David Cooper took over Coachman in 1982, and so the story begins. At the time, Coachman was a shell of what it is now with linoleum floors and a few broken ranges of tired men's and women's casual wear and jeans and some half-filled shelves.
Fast forward to today and the fit-out is slick and inviting, a cocoon of luxurious yet relaxed surrounds. An espresso machine and cocktail dress bar with leather lounge chairs beckon to while away the time whilst deliberating tie colours or allowing them time to comfort test those new shoes.
The Coachman is a true shopping experience, testament to this are the multiple Bayside Business Awards won in recent years – a reflection of the professionalism and exceptional customer service provided by David and his staff.
Constantly Evolving to keep in touch with customer trends and remain relevant in the fashion industry is core to the Coachman ethos. Today Coachman is one of Melbourne's leading menswear specialist boutiques at the forefront of Australian and worldwide men's fashion.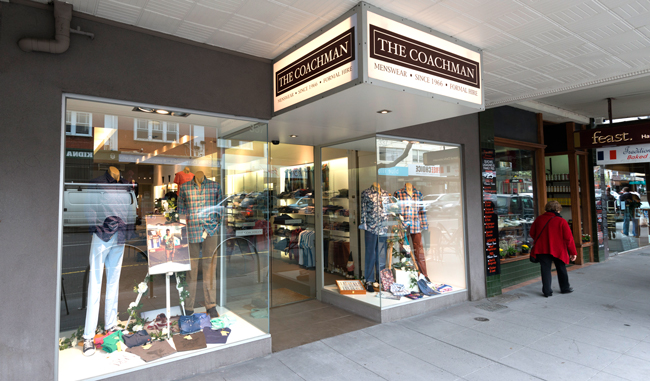 The Coachman staff are dedicated bespoke outfitters with knowledge, experience and expertise.
Coachman staff have years of experience in men's fashion and retail. The ability to select and fit clothes that suit individual style is an art, and that art is our passion. Coachman knows clothes. Owner David Cooper will advise that a gentleman has several choices in life, the most important of these being the clothes he wears. If you want discerning and stylish clothes, make your outfit choices at Coachman, simple.
David Cooper and his staff at Coachman have a knack of being able to tailor an outfit or piece that makes you look good. It's hard to make a bad choice at the Coachman, from classic leather dress shoes to silk ties, tailored shirts and designer suits, right through to cool tees and designer jeans. Coachman also offers a top of the range Formal Hire service.
David is a Bayside local and knows the history of Hampton Street inside out, his passion for both the local area and his trade is what makes the Coachman a shopping experience, not just a shop. So pop in for a coffee, a chat, a browse, or a stunning Hugo Boss suit.